How Can Ayurvedic Hospitals Improve Quality of Life?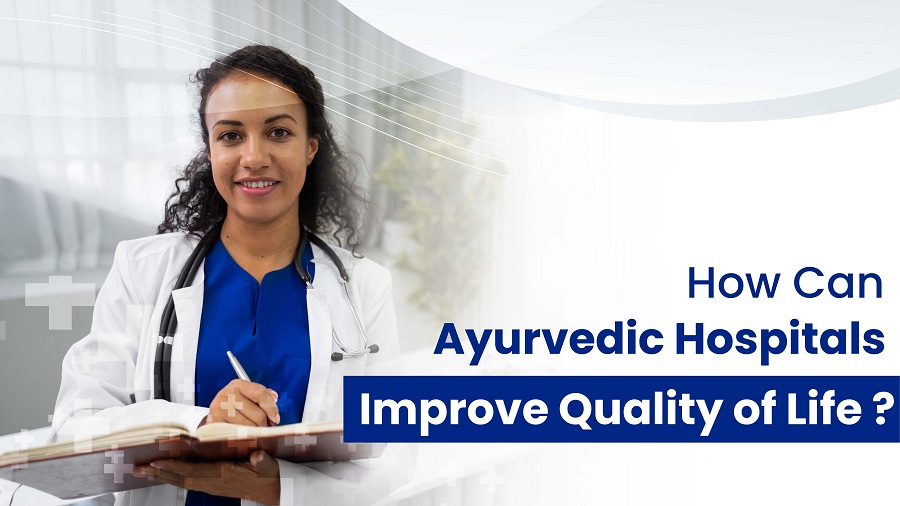 Ayurveda is one of the oldest systems of medicine in the world, dating back to more than 5000 years ago. Originating in India, it is based on the principle of balance and harmony among the five elements (earth, water, fire, air and space) and the three doshas (vata, pitta and Kapha) that govern the body, mind and spirit. Ayurveda offers a holistic approach to health and wellness, addressing not only the physical symptoms but also the root causes of diseases.
Ayurvedic hospitals are institutions that provide Ayurvedic treatments and therapies to patients suffering from various ailments. They are staffed by qualified and experienced Ayurvedic doctors, who have completed a Bachelor of Ayurvedic Medicine and Surgery (BAMS) course from a recognized university.
In this blog, we'll talk a little more about the BAMS course and how it shapes the doctors at an Ayurvedic hospital in Bhopal. Read on to find out how Ayurvedic hospitals improve the quality of your life through these graduates.
Table of Contents
A Little Info on the BAMS Course
BAMS is a five-and-a-half-year degree program that covers both the theoretical and practical aspects of Ayurveda, as well as modern medicine. Graduates of this course can practice as Ayurvedic physicians in India and abroad, and can also pursue higher studies in Ayurveda or other fields. This makes for a great alternative to MBBS, as students are made to systematically study and gain experience in a BAMS college in MP, for example.
The professional course format also allows for a year of compulsory rotatory internships. Many of the best Ayurvedic hospitals in India are also teaching hospitals and like Mansarovar Ayurvedic Medical College (MAMC), BAMS students can start getting their experience before their internship even begins.
To get a general idea of the main features of a BAMS course in a typical Ayurvedic college in Bhopal, or anywhere else in India, take a look at the table below.
| | |
| --- | --- |
| Name | Bachelor of Ayurvedic Medicine and Surgery (BAMS) |
| Level | Undergraduate |
| Duration | 5 years and 6 months |
| Examination Type | Professional system |
| Eligibility Criteria | Passed 10+2 with a minimum of 50%-60% marks and PCB as the compulsory subject combination |
| Admission Process | Entrance Exam based |
| BAMS Course Fees | INR 20,000 to INR 2,00,000 |
| Average Salary | INR 2,00,000 – INR 15,00,000 LPA |
| Top Recruiters | Hospitals, Life-Science Industries, Pharmaceuticals, Cosmetics, Dispensaries, Medical Colleges, Clinics, etc. |
How Ayurvedic Hospitals Improve Overall Quality of Life
AnAyurvedic hospital in Bhopal or any other place in India and abroad can improve the quality of life of their patients in many ways. Some of them are:
1. Offering natural and safe remedies that have minimal or no side effects
Ayurvedic medicines are derived from plants, minerals and animal products that have been tested and proven for their efficacy and safety over centuries.
These medicines are often created by the doctors at the best Ayurvedic hospital in India and are tailored to suit the individual constitution and condition of each patient, taking into account their age, gender, lifestyle, diet and environment.
2. Providing comprehensive and personalized care that addresses the physical, mental, emotional and spiritual aspects of health
An Ayurvedic hospital in Bhopal offers a range of treatments and therapies that include panchakarma (detoxification), Shirodhara (oil pouring on the forehead), abhyanga (oil massage), Swedana (sweating), nasya (nasal administration), basti (enema), Vamana (emesis), Virechana (purgation), Raktamokshana (bloodletting), leech therapy, yoga, meditation, pranayama (breathing exercises), diet and lifestyle counselling, herbal formulations, etc.
These treatments aim to restore the balance of the doshas, eliminate toxins from the body, enhance immunity, rejuvenate the tissues, calm the mind, improve digestion, metabolism and circulation, relieve pain and inflammation, prevent or cure diseases and promote overall well-being.
3. Fostering a positive and supportive environment that encourages healing and recovery
The patient's families and caregivers are also included in the treatment process at an Ayurvedic hospital in Bhopal, educating them about Ayurveda and its benefits, providing them with guidance and support, and encouraging them to adopt healthy habits.
They have well-equipped facilities and amenities that ensure comfort and convenience for the patients.
An Ayurvedic hospital in Bhopal usually has a serene and hygienic atmosphere that is conducive to healing.
They have trained and compassionate staff who treat the patients with respect and dignity.
4. Empowering the patients to take charge of their own health and happiness
Ayurvedic hospitals do not just treat the symptoms but also educate the patients about the causes and prevention of diseases. They teach them how to maintain a balanced diet, lifestyle and mindset that suits their constitution and condition.
They inspire them to follow the principles of Ayurveda in their daily lives, such as Dinacharya (daily routine), Ritucharya (seasonal routine), Sadvritta (ethical conduct), etc.
Patients are taught how to identify and avoid the factors that aggravate their doshas or trigger their diseases at an Ayurvedic hospital in Bhopal, for example.
They motivate them to practice yoga, meditation, pranayama and other techniques that enhance their physical, mental, emotional and spiritual health.
Also Read: Career Opportunities after Getting a Bachelor of Commerce Degree
Conclusion
Ayurvedic hospitals are more than just places where people go when they are sick. People go to heal themselves holistically, naturally and safely at an Ayurvedic hospital in Bhopal like MGU. They are places where people go to learn how to live in harmony with themselves, with others and with nature.
Ultimately, they are places where people go to improve their quality of life in every aspect.
FAQs
Can I study further after BAMS?
Yes. A BAMS graduate can study further and get an MD (Doctor of Medicine) or an MS (Master of Surgery) degree.
What is the average annual salary of an Ayurvedic Physician?
The average annual salary of an Ayurvedic Physician in India is INR 3.5 lakhs.
Which entrance exam do I need to clear to get admission to MGU?
You need to clear the entrance exam called NEET to get admission to MGU.
What is the full form of NEET?
NEET stands for National Eligibility cum Entrance Test.