Embracing Inner Beauty Exploring the Fascinating Stories of Ugly Disney Characters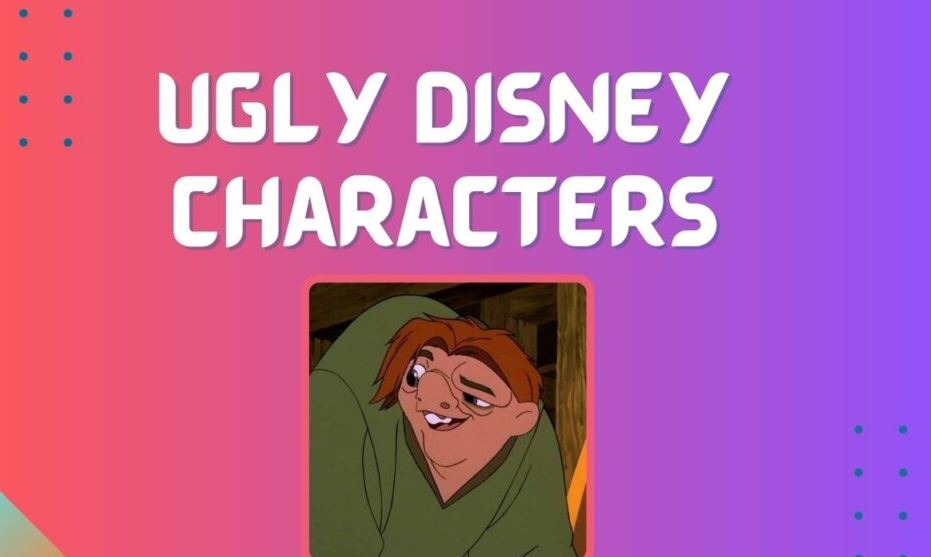 Table of Contents
Introduction
When we think of Disney characters, we often envision charming princes and beautiful princesses with heartwarming stories. However, Disney's creativity knows no bounds, and they've introduced us to a variety of characters with unconventional appearances. In this blog, we'll take a delightful journey through the realm of "Stories of Ugly Disney Characters." These characters, while not fitting traditional beauty standards, teach us valuable lessons about self-acceptance, inner beauty, and the power of kindness.
Unveiling the Unique: Stories of Ugly Disney Characters
Embracing Unconventionality
Disney has always been at the forefront of storytelling, and that includes embracing unconventional character designs. From the hunchbacked Quasimodo in "The Hunchback of Notre Dame" to the rotund and grumpy Hades in "Hercules," these characters challenge societal norms and captivate audiences with their distinctiveness.
The Transformational Journeys
Many of these characters undergo incredible transformational journeys that highlight the importance of personal growth. Take the Beast from "Beauty and the Beast," for instance. His journey from a cursed creature to a kind-hearted prince reminds us that true beauty lies within.
Lessons in Inner Beauty
While appearances might be the first thing we notice, Disney's "Stories of Ugly Characters" reveal the significance of inner beauty. Characters like Dumbo, with his oversized ears, teach us that our unique traits can become our strengths if we embrace them.
The Power of Friendship and Kindness
In "The Lion King," we meet Pumbaa, a warthog with a less-than-charming exterior. However, his unwavering friendship with Timon and his caring nature make him one of the most endearing characters, proving that kindness transcends appearances.
The Engaging Stories
The Tale of Quasimodo: The Hunchback of Notre Dame
Quasimodo's story is one of resilience and acceptance. Despite being ridiculed for his appearance, he finds solace in his passion for ringing the bells of Notre Dame. This tale showcases the importance of self-worth and the strength to rise above prejudice.
Hades: More Than a Villain
In "Hercules," Hades stands out as a flamboyant and scheming character. His quirky personality and unique design add depth to his role as a villain. This LSI Keyword showcases that not all Disney characters are one-dimensional.
The Ugly Duckling Syndrome: Dumbo's Triumph
Dumbo's oversized ears make him an outcast, but his ability to fly ultimately turns his perceived weakness into a remarkable strength. This transformation encourages readers to embrace their differences and discover their hidden potential.
Also Read: Masako Katsura – Age, Height, Wiki & More!
Lessons in Acceptance
The Beast's Redemption
"Beauty and the Beast" presents the Beast as a cursed prince with a fearsome exterior. His eventual transformation serves as a metaphor for personal growth, proving that love and kindness can break even the most enchanting spells.
Stitch: From Menace to Family
Stitch, from "Lilo & Stitch," is a genetic experiment gone wrong. However, his journey from causing chaos to becoming a beloved member of Lilo's family reminds us that everyone deserves a second chance.
Exploring Unconventional Bonds
Pumbaa: The Unlikely Hero
Pumbaa's unglamorous appearance is overshadowed by his kind-hearted nature. His friendship with Timon and his willingness to stand up for what's right teach us that true heroism comes from the heart.
Friends Come in All Shapes: Ratigan's Tale
In "The Great Mouse Detective," Professor Ratigan's cunning is matched only by his imposing figure. This lesser-known character proves that friendships can form between the most unlikely companions.
Frequently Asked Questions (FAQs)
Q: Are these characters only included for comic relief?
A: No, many of these characters play integral roles in their respective stories, conveying meaningful messages.
Q: Do these characters teach children valuable lessons?
A: Absolutely, these characters promote self-acceptance, inner beauty, and the importance of kindness.
Q: Why does Disney create characters that don't fit traditional beauty standards?
A: Disney aims to reflect the diversity of the real world and show that beauty is more than skin-deep.
Q: Are these characters popular among audiences?
A: Yes, these characters often become fan favorites due to their relatable and inspiring stories.
Q: What can we learn from these Disney characters?
A: These characters teach us to embrace our uniqueness, be kind, and recognize the beauty within ourselves and others.
Q: Can unconventional characters be role models?
A: Absolutely, these characters demonstrate resilience, kindness, and personal growth, making them excellent role models.
Conclusion
"Stories of Ugly Disney Characters" take us on a journey of self-discovery, acceptance, and the transformative power of inner beauty. Through their unique appearances and heartwarming stories, these characters remind us that true beauty lies in our character and actions. Disney's commitment to embracing diversity, both in appearance and personality, continues to inspire audiences of all ages.