The Role of Attorneys in Real Estate Disputes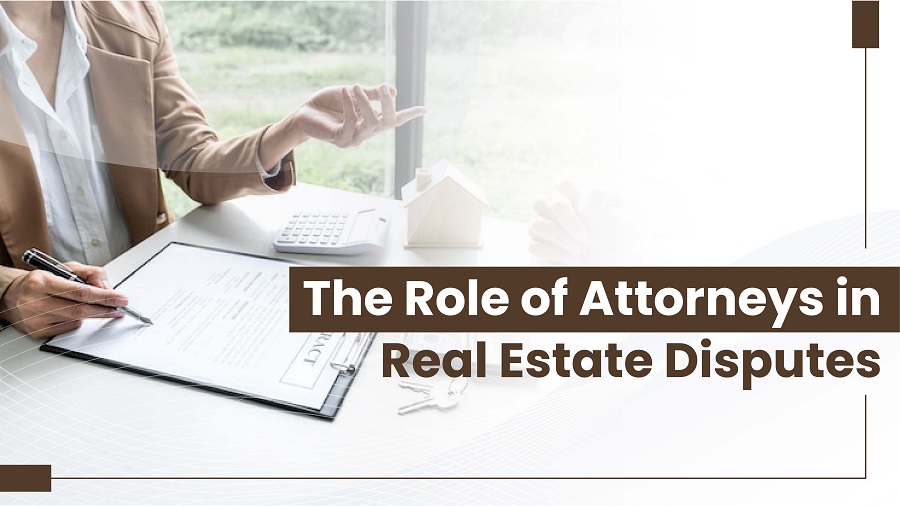 Property and real estate disputes are a menace to both the people who get stuck with them and the Indian Judiciary, which has earned the reputation of being extremely slow. But what is it to do? Property disputes in India are some of the most complex cases anyway, and on top of that, they happen to take up more than 56% of our Judiciary's backlog. In a country whose population has just crossed China's to become the highest in the world, getting your property tangled in a legal dispute can spell a death sentence for your peace of mind.
Like any other dispute of a legal nature, it is advised that you make use of the services of a lawyer or attorney to deal with real estate disputes. Lawyers, especially the ones that specialize in real estate and property laws can help you with dealing with or avoiding these kinds of cases altogether. But how do they do that? And what really is the extent of the services they can provide?
In this blog, we try to find out just that. Read on to find out everything you need to know about the role of attorneys in real estate disputes in India.
Table of Contents
Who are Property Lawyers?
Real estate lawyers or property lawyers are those licensed professionals who are experts at dealing with all kinds of legal matters pertaining to real estate transactions. One of their main job roles is taking care of all the legal paperwork involved in real estate transactions, whether it is buying, selling or renting. They are usually hired by both individuals and organizations to safeguard their best interests in any kind of deal that involves property and the best lawyer for property disputes will even be an expert in ADR (alternative dispute resolution) techniques and litigation practices of the country they reside in.
Common Types of Property Disputes in India
Real estate disputes in India are very common, where land ownership and property rights are often contested and unclear. Property disputes in India can arise between various parties and involve various issues related to real estate matters. For example:
Buyers may dispute the title or possession of the property they purchased from a seller who did not have a clear or valid title or who failed to deliver possession as per the agreement.
Landlords may dispute the rent or maintenance charges payable by a tenant who defaulted on the payment or violated the terms of the lease agreement.
A co-owner may dispute the share or partition of the property he jointly owns with another co-owner who refused to divide or sell the property as per their mutual understanding or agreement.
Developers may dispute the quality or completion of the work done by a contractor who delayed or abandoned the project or delivered substandard work as per the contract.
A neighbour may dispute the boundary or encroachment of his property by another neighbour who constructed or extended his property beyond the legal limit or without obtaining the necessary permissions.
A citizen may dispute the acquisition or demolition of his property by a government authority that did not follow the due process of law or did not pay adequate compensation as per the law.
These disputes can have significant financial and emotional implications for the parties involved. Therefore, it is advisable to seek the help of an attorney who specializes in real estate law and litigation from a respected law firm like Lexsolutions. An attorney can provide legal advice and representation to protect your rights and interests in real estate matters.
How Can an Attorney Help You in Real Estate Disputes?
An attorney can help you in various ways when it comes to dealing effectively with real estate or property disputes in India, such as:
Advising you on your legal rights and obligations in real estate transactions and contracts (like wills).
Conducting due diligence and verification of property documents and records.
Drafting and reviewing legal documents such as MoUs, deeds, leases, notices, affidavits, etc.
The best lawyer in Chandigarh can also help in negotiating and mediating with the other party to resolve the dispute amicably.
Filing and defending lawsuits in courts or tribunals to seek judicial remedies in accordance with national and state property laws like REDRA, WBHIRA, Transfer of Property Act, Contracts Act, etc.
Appealing against adverse orders or judgments in higher courts or authorities.
Executing and enforcing court orders or decrees through appropriate means such as attachment, sale, possession, demolition, etc.
Seeking alternative dispute resolution methods such as arbitration or mediation to expedite the resolution of property disputes in India.
Benefits of Hiring an Attorney for Property Disputes in India
Hiring a property lawyer in Chandigarh, for example, for real estate disputes can offer you several benefits, such as:
Saving time and money by avoiding unnecessary litigation or delays.
Reducing stress and hassle by handling the legal formalities and procedures on your behalf.
Increasing your chances of success by presenting your case effectively and persuasively before the court or authority.
Lawyers from Lex Solutions can also be integral in protecting your interests by ensuring compliance with the applicable laws and regulations.
Securing your rights by obtaining favourable outcomes or settlements.
Also Read: Need of Hiring a Specialized Car Wreck Lawyer in The USA
Conclusion
Real estate and property disputes in India are inevitable, as land is scarce in comparison to the huge and steadily growing population. However, they can be resolved efficiently and peacefully with the help of an attorney who has expertise and experience in real estate law and litigation. An attorney can guide you through the legal process and help you achieve your desired goals in these types of disputes, saving you both time and money in the longer run.
FAQs
What is WBHIRA?
WBHIRA stands for West Bengal Housing Industry Regulation Act. It is a state law that is used in lieu of RERA in the Indian state of West Bengal.
Is there any difference between RERA and REDRA?
RERA stands for Real Estate Regulatory Authority, which is a regulatory body established for the protection of home buyers and the speedy resolution of real estate disputes. REDRA stands for The Real Estate (Regulation and Development) Act of 2016, which is the law which established RERA.
How can a property lawyer help me make a will?
A property lawyer can help you make a will by following the legal requirements and making sure that your will is clear, unambiguous, and free from any coercion or fraud. They will also update your will regularly to reflect any changes in your circumstances or preferences.
Which law was used to file real estate cases before RERA came into effect?
The Consumer Protection Act was used before RERA came into force in 2016.