Get the Job Done Quick: 6 Short and Efficient Ways to Cut MDF!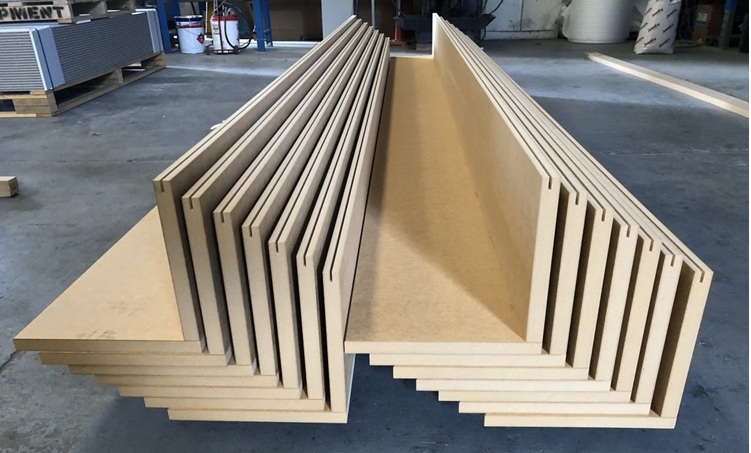 Table of Contents
Are you looking for quick and easy ways for MDF cutting? You have come to the right place!
This blog will provide you with the top 6 ways to effectively cut MDF – from skill saws and circular saws, to jig saws or oscillating multi-tools.
With these guidance and tips, you'll be able to get a perfect cut each time!
1. Use a table saw with either a high-speed steel or carbide-tipped blade to Cut MDF
Using a table saw with either a high-speed steel or carbide-tipped blade is one of the best ways to cut MDF.
The sharp blades give you smooth and accurate cuts, reducing the risk of inaccuracies which can occur when using other tools. To get even better results, ensure that your table saw is set up properly and that its guard is in place before beginning work.
Additionally, make sure to use a push stick when cutting small pieces to keep your fingers away from the blade at all times. With these safety measures in place, you should be able to achieve clean, precise cuts on MDF quickly and easily using a table saw!
2. Invest in a circular saw specially designed for cutting MDF with the proper grade of blade
Investing in a circular saw specifically designed for cutting MDF is an effective way to cut the material.
When choosing the right blade, you should look for one that is suited for MDF materials and has the proper grade of blade. This type of saw will be more efficient, accurate and consistent when cutting through MDF than other types of saws.
It can also help prevent damage to both the material being cut and the blades themselves.
3. Utilize a chop saw, also known as an abrasive cut-off saw!
Using a chop saw, or abrasive cut-off saw, is one of the best ways to make precise cross cuts in MDF sheets. It works by using an abrasive wheel instead of teeth and can be used to create straight lines with accuracy and precision.
The material being cut needs to be secured firmly on the workbench or table before starting the cut – this ensures that it won't move around as you're cutting. Make sure you wear safety goggles when operating any power tools like this for your own protection.
With practice, you can use a chop saw to achieve perfect results every time!
4. Take advantage of using handheld jigsaws on thinner gauge panels where precision isn't critical
Handheld jigsaws are a great way to cut MDF, especially for thinner gauge panels where precision isn't essential. These could be used for shelving projects, simple furnishings and other DIY tasks like this.
With handheld jigsaws you can have more control over the cuts that you make, so they're ideal when accuracy isn't critical. Additionally, it's much easier to maneuver than larger tools like table saws or bandsaws which makes them perfect for smaller jobs.
They also tend to be less expensive than bigger tools so they're a great option if you don't want to invest in something more costly yet still need the job done properly.
5. Try out router bits with trimming bearing guides that are installed into the base plate
Using router bits is a great way to cut plywood (or even medium density fiberboard).
By using trimming bearing guides that are installed into the base plate, flush trim and patterned routing bits can be used to shape decorative edges or make window openings.
Router bits with these accessories make it easier to cut the MDF with greater accuracy and control. This technique also helps reduce the risk of splintering since the surface of the trimmed edge will be smooth.
6. Make use of oscillating power tools like the multi-tool which can quickly accomplish straight line cuts
Using an oscillating power tool like a multi-tool is one of the best ways to cut MDF boards.
It can quickly accomplish straight line cuts by running through miter slots at different depths while using special attachments such as plunge blades or wafer blades designed specifically for cutting wood composites like MDF boards.
This method is fast and efficient, and it produces clean, precise results.
Also Read: Designing a Low-Budget Small Cafe Interior
The Bottom Line
In conclusion, the above-mentioned methods are the top 6 short and crisp ways to cut MDF.
With a bit of practice, anyone can master these techniques while cutting MDF efficiently with precision. All in all, each method has its own advantages and disadvantages depending on the type of project one is working on.
Before starting any project involving MDF, it's best to research and decide which technique would be most suitable for your requirements.