Why an Executive MBA May Be the Right Choice for You?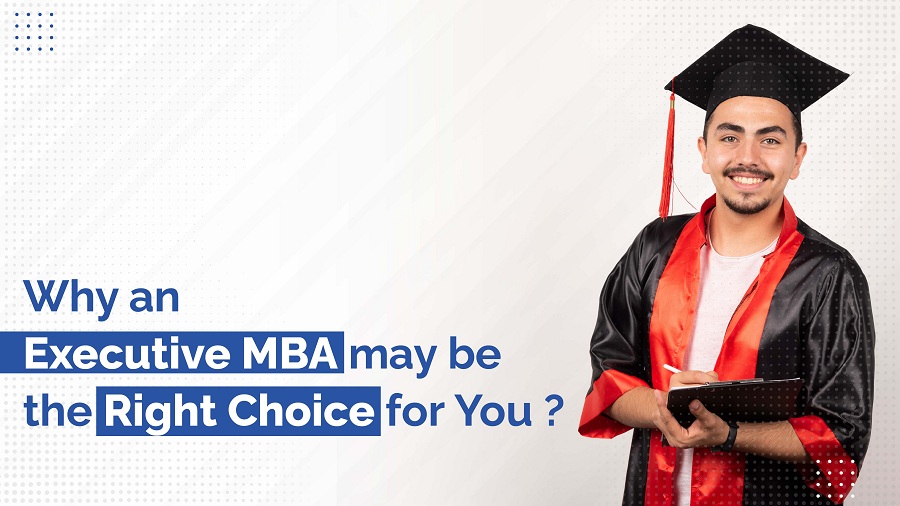 Are you stuck in your career? Or waiting for your promotion? Well, it's hard to escalate career after a point of time but you must have heard that the MBA course is the path to reaching management-level job positions. But as a working professional, you do not have time to enroll in regular MBA courses, and you cannot take a career break.
What if we tell you, there is an MBA program you can pursue simultaneously with your job? Yes, you are reading it right. Executive MBA program is one such course that is popular among working professionals. In this blog, we have covered 7 reasons why joining the best executive MBA programs will be the right decision for you.
Table of Contents
Executive MBA- Course Overview
Executive MBA is a postgraduate master's of business administration program specially curated for working professionals by a selected private university in Maharashtra. This course helps managers to complete a master's degree with a flexible schedule and in a relatively less time period than a regular MBA program.
| | |
| --- | --- |
| Course Level | Postgraduate |
| Course Duration | 1-2 Years |
| Minimum Eligibility criteria | Applicants must have a bachelor's degree from a recognised college/ University.Applicants must have two years of working experience. |
| Recruiting sectors | Corporate firms, Banks, Online Shopping Portals, Hotels, etc. |
Reasons to Pursue Executive MBA in your Master's
1. Helps in building network- Working professionals from different industries join the best executive MBA programs, and this will be a great opportunity for you to broaden your network and knowledge into various horizons. This network will enhance your job prospects in the future.
2. To enhance your resume- As you get older in any organisation, chances of promotions become less frequent and it takes years to reach the management or higher-level position in any company. An executive mba for working professionals helps individuals to enhance their resume, skillset, and knowledge.
3. Flexible course- One of the major advantages of choosing the best executive MBA programs is you do not need to take any career breaks. As the classes of EMBA run on a flexible mode, you can work on weekdays and can take online or weekend classes as per your comfort.
4. High return on investment- Executive MBA programs are a great career investment. The amount of money, you'll invest in this course, will give you a return with high placement packages through both on-campus and off-campus recruitment. The salary you will receive after completion of this program will be much higher than your previous pay package. On average, EMBA graduate earns in a salary range of 12-40 Lakh per annum.
5. Job opportunities- Executive MBA for working professionals in India opens the door for numerous career opportunities in the management field. Also, this course makes them enable to start their entrepreneurship firm.
Let's check out some popular job options available for EMBA graduates-
Finance Manager
Management consultant
Brand manager
Business development manager
Senior HR Manager
Operation Manager
Head of Digital Marketing
Chief Marketing Officer
Recruiter
Internal Auditor
Senior Account Manager
Business Analyst, Software
Senior Project Manager
6. For personal & professional growth- The EMBA program from the best university in Maharashtra will help you grow on a personal & professional level. With opening the door for various career avenues, this program will also help you develop communication skills, leadership skills, time-management skills, and negotiation skills and these skills will help you in various aspects of life.
7. To gain a different perspective- This course will give you new insight into various managerial and leadership philosophies. At best executive MBA programs you will learn various business practices and management tactics that you can apply in a real workplace. This course will also help in enhancing learning capability in you.
Why choose Universal AI University for the executive MBA program?
Universal AI University focuses on providing top-notch courses to students. And to keep students ahead with technological development, recently they have incorporated AI & machine learning concepts with every course they offer. Also, this is the 1st AI university in India.
Amazon, HUL, Flipkart, Tata Capital, Capgemini, KPMG, Google, Citibank, EY, and TCS, are the few top recruiters visiting their campus for placement.
Top corporate executives will be teaching you this course with an experience-based learning approach.
Universal AI University has received various awards and accolades for its contribution to providing valuable business courses.
Final words,
If you are a working professional seeking higher pay packages and career growth, the above-mentioned points are sufficient to understand how this degree will benefit your career. According to the reports of the Executive MBA Council (EMBAC), 39% of EMBA graduates obtained a promotion after completing this degree. And if you want to add a feather to your career cap, join the best executive MBA programs in Mumbai.
Also Read: What are the Different Types of BBA Degrees Available?
Frequently asked questions
What are the specialisations available at the best executive MBA programs?
Popular specialisations provided by the top business school are as follows-
Finance
Luxury Management
Marketing
Project Management
Human Resources
Global Management and Leadership
Entrepreneurship
Is pursuing an executive MBA worth it?
Yes, an executive MBA is the best postgraduate degree for working professionals to enhance their skills, knowledge, career opportunities, and salary package.
Who should pursue an executive MBA?
These working professionals can join the best executive MBA programs–
Working professional with a minimum of 2 years of work experience who want to climb the career ladder.
Working professional who wants to enter the field of entrepreneurship.
Working professional who wants to switch careers into managerial jobs.
What is the right age to pursue an executive MBA in India?
There is no specific age limit to pursue an executive MBA course in India. However, you can check the eligibility criteria of the management institution before applying for the course.
What is the difference between MBA and executive MBA?
The major difference between the two courses is that MBA can be pursued by any student with a bachelor's degree but for an executive MBA, you'll need to have some years of working experience. And most of the MBS courses are regular whereas executive MBA programs have flexible schedules.