A Guide to Audio & Video Conferencing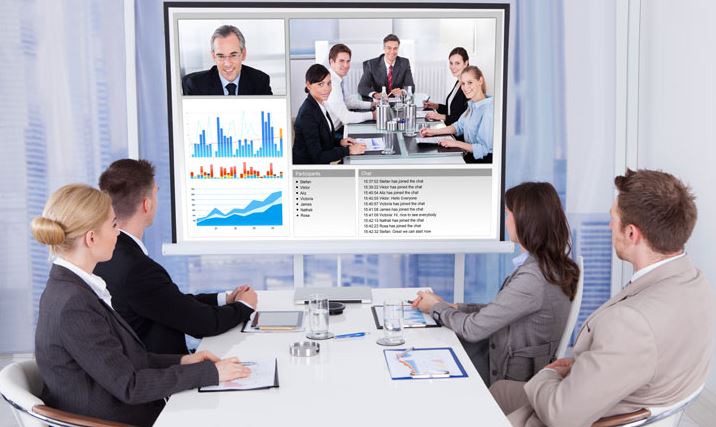 In the year 2020, when COVID hit the world and frequent lockdowns became normally prevalent, the way businesses operated, and people communicated drastically changed. Almost everything including schools, colleges, and offices switch to online mode for their operations. All thanks to the audio and video conferencing solution that made online communication way easier and the new normal. 
Table of Contents
Undoubtedly, these technologies proved to be a boon for all and made meetings online possible. So. Let's know about audio and video conferencing.
What is Audio Conferencing?
As the name suggests, it is a mode of conducting meetings over an audio call. The people who call are known as participants. Through audio conferencing, meeting between a group of people (more than two people) can be conducted seamlessly. The main advantage of using audio conferencing is that it does not require a complex device setup and can be done easily and hassle-free.
Devices required:
Phone/ Computer with internet connection
Microphone (for voice clarity)
Speakers (for voice clarity)
Benefits of Audio Conferencing:
Cost-effective
Easy to set up
Easily accessible
Secured, as difficult for hackers to hack
Clear Communication
What is Video Conferencing?
As the name suggests, video conferencing is a mode of communication that enables users to connect with each other by video and audio transmission simultaneously. In simple language, we can say that it is an online meeting where people can talk to each other audio-visual call.
Ever since COVID hit, video conferencing has gained popularity among the masses. Indeed, since then corporates have started utilizing video conferencing services of reputed brands to ease online communication among their team members while they are working from home.
Devices required:
Computer with high-speed internet connection
Video Conferencing Software
Speakers
Microphone
Web Camera
Benefits of Video Conferencing:
Effective communication
Cost-effective compared to scheduling a physical meeting
Saves time
Simplifies collaboration
More efficient
Makes scheduling meetings easier
Team members from across the globe can connect all at the same time
Enable recording of the meeting
Top 5 Video Conferencing Software to enhance your meetings
Video conferencing is an effective way of collaborating while remote working where face-to-face interaction and features like file sharing and screen sharing are essential. Video conferencing facilitates the way a team works.
Here's a list of the best video conferencing software that one can prefer:
Zoom
From meetings, chats, phone calls, and webinars to online events, zoom is apt for all. It is a secure, reliable video platform that offers a high-quality experience.
Microsoft Teams
It is a chat-based workspace offered in Office 365. It is the best option for teams to collaborate as it offers tools that aid team meetings.
Webex Meetings
It is a Cisco video conferencing software. It is an intelligent video conferencing solution for the modern workforce that makes meetings more interactive and engaging. It has features like background noise removal, voice enhancement, animated emojis gesture recognition, customized stage layout, and many more.
Skype
It is one of the oldest video conferencing software that allows internet calls for free.  It is best known for VoIP-based videotelephony, videoconferencing, and voice calls. It also offers instant messaging, file transfer, and many more. 
Google Meet
It is a video conferencing software offered by Google.It consists of productivity and collaboration tools that can help you in smoothly conduct meetings. 
I think the list mentioned above would be helpful for you in selecting the best option for you but before that, make sure to consider your requirements and then evaluate which software can fulfill them aptly. Accordingly, make your choice.