Get Ready For Soundproofed Silence – How Installing Acoustic Doors Can Benefit You!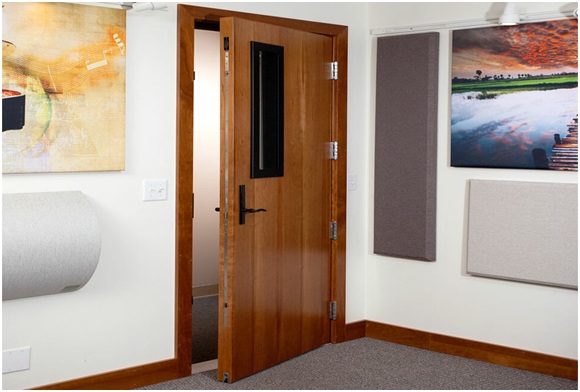 Table of Contents
Are you looking for an ideal soundproofing solution? Acoustic doors are becoming increasingly popular due to their ability to enhance areas of both commercial and residential buildings with outstanding acoustic control. Their installation helps maintain quiet spaces; free from stressful noise disturbances.
In this blog article, we provide a comprehensive look at the top 6 best reasons why anyone should consider installing these efficient acoustic doors. From improved privacy to beneficial cost-savings, our guide dives into all facets that make them instrumental in any property improvement project!
So, if you want to reap the rewards drove by superior sound insulation, continue reading and discover new possibilities today!
Benefits of Installing Acoustic Doors
1. Improved Sound Insulation
The installation of an acoustic door is a great way to enhance sound insulation in any given space. Acoustic doors are meticulously designed with the utmost attention paid to their ability to effectively reduce noise penetration or reflect it.
In comparison to regular doors, acoustic doors have specially engineered core materials better suited for deflecting sound waves while also improving reverberation control and speech intelligibility – ideal if you're looking for a reduction of distracting background noise or specific echo-accentuated frequency ranges.
Further benefits include increased privacy within occupying spaces, improved energy efficiency by trapping air inside insulated interiors as well as guaranteed reliability due to rigorous stress testing conducted on each product before launching them into the market.
All things considered, improved sound insulation is certainly one of the main reasons why acoustic doors ought to be factored into your building plans!
2. Increased Privacy
Installing an acoustic door can greatly enhance the level of privacy for any environment (like audiology rooms). The soundproofing features these barriers provide are effective in blocking out unwanted outside noise, while muffling any conversations or activities taking place inside.
This is a great solution for those looking to increase their sense of security and reduce external interference from others who may be attempting to eavesdrop on your daily goings-on.
Hence, improved privacy is one of the principal advantages afforded by having acoustic doors installed – allowing users to enjoy a greater amount of seclusion within their personal space with greater peace-of-mind that their talk will remain confidential.
3. Cost Savings from Reduced Air-Conditioning and Heating Costs
Installing an acoustic door can bring innumerable advantages to a property, including saving on air-conditioning and heating costs. The soundproofed barrier guards against costly energy loss throughout the year, with maximal insulation ensuring only a minimum amount of heat exchange between indoor and outdoor areas.
Furthermore, this construction has superior acoustic dampening properties that stop unnecessary deep noises from travelling between rooms – meaning owners don't have to worry about pesky sounds disrupting or distracting them during crucial moments.
As such, for owners looking to save money while also maintaining comfort indoors, investing in an acoustic door is one of the most economical options available today.
4. Noise Reduction in Individual Workspaces
Installing an acoustic door is a smart decision for ensuring noise reduction in individual workspaces. The incorporation of such a device can limit egress and ingress sound frequencies with remarkable effects, providing much needed tranquility to effected areas.
Since many businesses encourage open-plan working conditions these days, the installation of an acoustic door greatly assists in keeping workstations private and free from distraction.
In tandem with minimal meetings policies or background white noise generators, speech clarity can be further enhanced throughout the day while allowing two-way communication without having to raise voices unnecessarily.
Therefore, it's no surprise that more companies are opting to install acoustic doors – affording their employees serenity during intensive work sessions leading to increased productivity at home as well as in office spaces.
5. Easy to Install and Maintain
Installing acoustic doors can offer a myriad of advantages both in terms of convenience and cost-efficiency. Specifically, the ease with which they are able to be installed and maintained is one major reason why these products remain so popular on the market today.
For instance, compared to regular doors their specialized designs allow for relatively quick set up – oftentimes only requiring a few screws and brackets for mounting. Furthermore, it is possible to clean most models without needing any special apparatus or professional assistance making upkeep uncomplicated instead of laborious.
As such, those looking for a simple way to block out noise pollution may wish to consider this option due its simplified installation process as well as subsequent low maintenance demands.
6. Aesthetically Pleasing Finish
The installation of an acoustic door yields many benefits, with one of the most prominent being its aesthetically pleasing attributes.
These features not only impart a great visual appeal to any room; they also provide effective soundproofing capabilities that protect against external noise pollution.
Moreover, acoustic doors can be easily customised to fit different sizes and shapes according to the requirements of an individual's tastes without compromising on quality.
This provides versatility in terms of style, texture and colour – often constructed using a combination of natural materials such as cork or stone – allowing anyone to create an idyllic interior aesthetically tailored for their home.
Also Read: Acoustic Louvres & Anechoic Chambers – The Next Level of Soundproofing
The Bottom Line
In conclusion, the above-mentioned reasons to install acoustic doors highlight the valuable benefits of having one in your space.
From soundproofing and noise reduction, to improved airflow and temperature control, these solutions offer a multifaceted approach.
So, whether you are looking for peace and quiet or just want to make sure that your home is more comfortable throughout the year – acoustic doors are certainly worth considering!