Strategies to Harness the Potential of Corporate Music Events as Catalysts for Sales and Conversions
Table of Contents
Introduction
Corporate music events have evolved beyond being a form of entertainment. They now present opportunities to boost sales, increase conversions and foster lasting customer relationships. These events bring together professionals in a friendly atmosphere. Their true potential is often overlooked. In this article, we will explore strategies for harnessing the power of corporate music events transforming them into catalysts for driving sales growth, achieving higher conversion rates and ensuring sustained business expansion.
1. Creating Corporate Music Events
Moving Beyond Entertainment: Establishing Clear Objectives
The step in leveraging corporate music events to drive sales and increase conversions is defining clear objectives. It's important to determine whether the primary goal is acquiring leads, nurturing existing clients, launching a product or showcasing industry expertise. For instance, a technology company might organize a music event specifically to introduce a software solution to clients, where live demonstrations and interactive sessions are seamlessly integrated with the musical performances.
Targeted Guest List
Curating an intentional guest list is crucial. Invite prospects, existing clients, influential individuals, within the industry network and decision-makers. This ensures that your event's impact is focused on individuals who have the potential to become leads or clients. Additionally, consider segmenting your guest list based on interests or needs in order to tailor the event experience accordingly.
2. Enhancing Networking Opportunities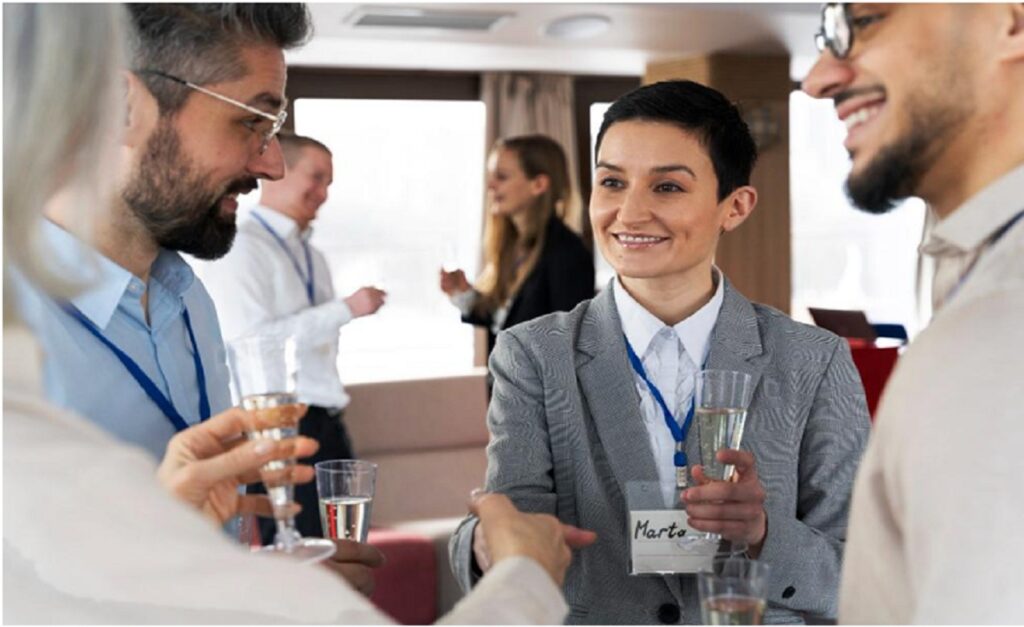 Arranging Structured Networking Sessions
Networking facilitates connections, thus, it is important to organize networking sessions. These sessions can include industry discussions or interactive workshops, providing attendees with the chance to build relationships and engage in conversations. By offering a variety of networking formats, you create an environment where attendees can choose the activities that align with their goals.
Utilizing Technology for Networking
Leverage event technology to elevate networking experiences. Incorporate mobile apps that enable attendees to schedule meetings, exchange business cards and access real-time event information. These digital tools simplify the process of connecting with leads and clients while providing valuable data on attendee engagement and interests which can be helpful for follow-ups after the event.
3. Music as a Tool for Brand Engagement
Aligning with Brand Values
Music possesses the ability to evoke emotions and reinforce brand associations. Ensure that the music and overall event experience resonate with your brand's identity and values. For example, if you represent a fashion brand consider hosting an event featuring eco-musicians to further emphasize your commitment to sustainability. By crafting a brand narrative that seamlessly integrates into the ambiance of the event you can leave a lasting impact on attendees.
Impactful Content Marketing
After the event is over, it's important to extend its impact by creating content that keeps the attendees engaged and reinforces your brand's message. Share highlights from the event and conduct interviews with artists. Offer a glimpse behind the scenes through platforms. You can also incorporate user-generated content like testimonials or social media posts to showcase the experiences shared during the event.
4. Nurturing Leads and Boosting Conversions
Necessity of Follow-Up Strategies
To effectively nurture leads and boost conversions after the event, have a follow-up strategy. Send personalized thank you emails to express appreciation for their presence and highlight takeaways from the event. Initiate discussions about collaborations and provide resources that align with their interests or needs. Additionally, consider sending surveys to gather feedback on their event experience and use that input to tailor your follow up approach.
Additional Exclusive Post-Event Incentives
To further motivate attendees into action, offer event incentives such as limited time discounts, access to premium content or early product releases. Craft these offers strategically in a way that addresses pain points or interests identified during the event making them highly relevant to your audience.
5. Measuring Achievement and Constant Improvement
Relevant Metrics for Assessment
Evaluation is crucial for refining strategies. To keep track of attendance numbers, it is important to focus on metrics such as post event engagement, lead generation, conversion rates, revenue generated from event-related activities and customer retention rates. By analyzing these metrics you can gain insights into the overall impact of your corporate music events.
Continuously Enhancing Events
Every corporate music event presents an opportunity to learn and improve. Collect feedback from attendees through surveys, interviews and discussions on media. Use this data to identify areas that can be enhanced and implement these insights to create impactful events in the future. Consider organizing debriefing sessions with your event team to discuss what went well and what can be improved upon, fostering a culture of improvement.
Conclusion
Corporate music events have evolved from entertainment to marketing tools for businesses. By establishing objectives, curating guest lists effectively, facilitating networking opportunities, aligning music with brand values, nurturing leads effectively and measuring success accurately; organizations can unlock the potential of these events. Corporate music events become catalysts, for sales and conversions while fostering business growth and building lasting client relationships. The impact of the event extends beyond the music itself by driving sales and conversion success.