Exploring the Craftsmanship Behind Chikankari Kurtas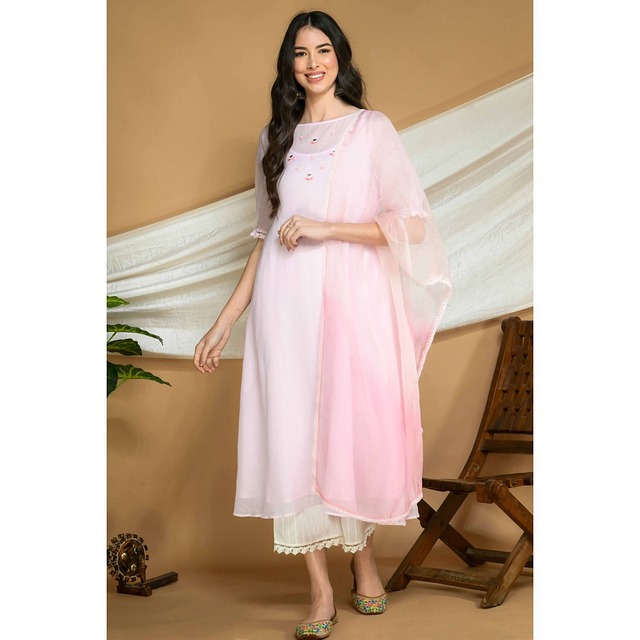 Table of Contents
Chikankari is a traditional embroidery style from Lucknow, India, known for its delicate and detailed designs for many years. The kurtas adorned with Chikankari embroidery are not merely garments but a beautiful showcase that displays the rich cultural heritage and skilled craftsmanship of the artisans. Chikankari kurtas are versatile pieces of clothing in every woman's wardrobe. The best part about owning chikankari kurtas is that you can wear them for formal wear or casual wear by just accessorizing the right way.
The Root of Chikankari Kurtas
The art of Chikankari dates back to the Mughal era, with roots often traced to Empress Noor Jahan's love for the craft. It was highly favored by royalty and nobility. This age-old craft has moved smoothly from the royal courts to today's fashion, showcasing elegance and sophistication.
Process of Creation
Creating a Chikankari kurta is a labor of love and patience. The process begins with designing, where patterns inspired by nature or geometric motifs are conceived. These designs are then meticulously transferred onto the fabric.
The embroidery process is where the magic truly happens. Using a variety of stitches like the Tepchi stitch, Bakhiya stitch, Banarsi, and more, artisans breathe life into the fabric. Each stitch is a testament to the artisan's skill and the rich tradition of Chikankari.
The Modern-day Appeal
In the present day, Chikankari kurtas hold a special place in the hearts of fashion enthusiasts. They are a perfect blend of traditional aesthetics with modern style, suitable for various occasions, be it a casual outing or a festive celebration.
Moreover, Chikan kurtas have a timeless appeal. They are a go-to choice for those who appreciate understated elegance and wish to carry a piece of tradition with them.
At ShopNamasty, we celebrate the legacy and craftsmanship of Chikankari embroidery. Our collection of Chikankari kurtas is a tribute to the artisans and the rich cultural heritage they represent. Discover the beauty and elegance of Chikankari kurtas by exploring our collection here.
Embracing Tradition
Chikankari kurtas are more than just a fashion statement. They are a narrative of a rich cultural past, a mirror to the skilled craftsmanship that goes into creating each piece. Owning a Chikankari kurta is like owning a piece of art, each stitch telling stories of traditions passed down through generations.
Also Read: Exploring Different Party Dress Silhouettes
In conclusion, the charm of Chikankari kurtas lies in the heart of its craftsmanship. Each kurta is a garment that captures the essence of a rich cultural heritage, making it a cherished addition to your wardrobe. Embrace the blend of tradition and style with Chikankari kurtas, and let the elegance of this craftsmanship reflect in your attire.